Being a freelancer can be both pressurizing and gratifying at the same time. Whatever your process is, you are most likely to experience a lot of things that you would rather know about in advance before jumping into the job directly. While finding a job is traditionally considered tough, VOIZ has made it easy for plenty of individuals to nab jobs that they enjoy and can work, at their own pace. To help you decide how you want to work with VOIZ and other answers you have been looking for pertaining to remote jobs etc are all here and answered for you!
Can salaries be negotiated for the vanilla jobs you apply for? 
Payouts are mostly fixed and determined by the hiring company. You can choose to discuss it but it will depend on your experience in the area of the job role you are applying for. But for the most part, payouts are more or less fixed and will be visible for you to view before applying for the job itself. That said, if you do choose to speak about it or if you are asked salary based questions in the middle of the interview, then be sure to make your salary requests reasonable.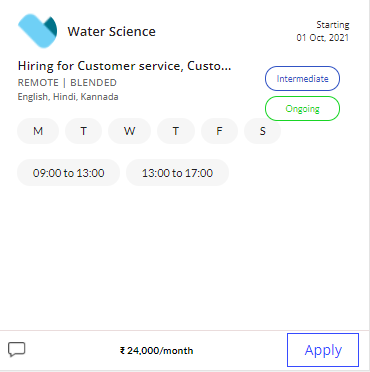 For instance, if you are applying for the aforementioned role, then your payout will be as it is prescribed on the job posting.
How long must my resume be? 
Resumes are not the most important factor here. It depends on the company and the recruiting manager who will be reviewing your resume. If you have an extensive work history, then it makes sense to have a resume that goes over two pages but less than three pages. To support this, Flex Jobs has stated that recruiters are most likely to prefer two page resumes. That said, if you have less experience, then focus on the quality of the content you choose to add to your resume and ensure that it is relevant to the job you are applying for. That said, VOIZ has a pretty easy take on this, where we look at your skills more than your experience and evaluate based on that! If you've got the experience, then great! But even if you don't, you don't have to worry about it! You'll definitely find a job that works for you!  
How do I network effectively while working as a customer support representative?
As a customer support agent, you will be interacting with tonnes of customers and hiring managers before that. That sort of networking is hard to come by. At VOIZ, you can apply for another role also in addition to the one you are currently doing if you have the time and interest to do that which increases your chances of meeting new people and connecting with them professionally. 
What do I do if I get rejected?
Do not be discouraged by rejection. One rejection is nothing when you have so many other opportunities laid out in front of you. You can immediately apply for other positions if you did not get accepted for one. 
How do I stay motivated during my job hunt? 
Searching for jobs if you don't already have one can be stressful but with VOIZ we have a really high success rate that ensures your employment at some point. That said, we acknowledge the fact that job hunting can lead to anxiety, stress, and even burn out which is why it is important to maintain a healthy lifestyle that facilitates continued motivation. Enrol in courses and set achievable goals that will help you through your job search journey. 
At VOIZ, we have plenty of opportunities that can help you enhance your skills while also being able to work at your convenience! Let us know in the comments if you have any questions that we can assist you with! Hope to see you make your mark in the gig world!