Research by Microsoft discovered that 54% of global customers have increased their customer service expectations that they did a year ago. To meet and exceed these expectations, brands and businesses are looking to outsource their customer service functions to process experts and a remote CX platform like VOIZ that has a steady roster of CX talent and are extremely experienced in delivering superior customer experiences.
Contrary to popular belief, customer support calls do not actually end with the "click". The customer may have left the chat or the call but the customer support agent still has work to do before launching into another call or starting a brand new interaction or conversation. From answering the customer query to creating a follow-up plan, agents are constantly doing post-call processing work that is crucial in creating an unequalled customer experience.
What exactly is After-Call work?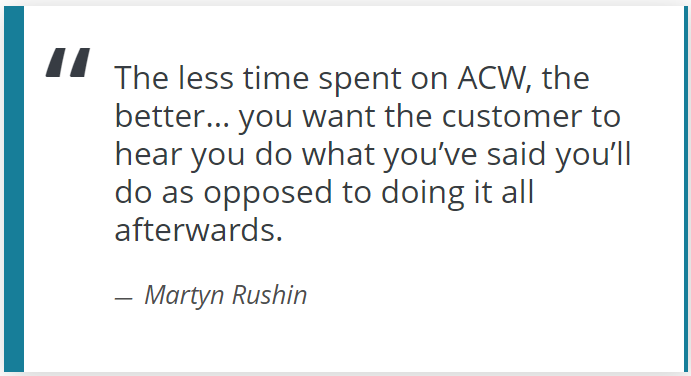 Source: Call Centre Helper
After-call work includes all the tasks that a customer support representative or a telemarketing or telesales agent has to perform and complete as soon as they have interacted with the customer. After-call work is an important part of a crucial call centre KPI which is the Average Handling Time.
During post-call processing work also known as 'wrap up', agents will not be able to accept or answer any other call.
Some common after-call tasks include:
Updating the database with information collected during the course of the call.
Logging details such as the reason of contact, the outcome of contact, etc.
Scheduling follow-up actions if required.
Updating notes on the caller's customer account.
Assigning emails to the appropriate department requiring answers or follow-up reminders regarding a call.
Sending emails to customers regarding the call that took place.
Providing necessary feedback on customer sentiment.
How long does After-call work 'ideally' take?
There are four essential factors that influence and determine the length of your wrap time. Those include:
The industry your business or organization is operating in
The type of call
The internal processes of the outsourced call centre
The behaviour of the handling support agent
As mentioned, the duration of after-call work depends on various factors such as the nature of the call, the expertise of the agent, the complexity of the issue etc impact the equation.
Though there is no magic formula the basic rule of thumb is that ACW must be as short as possible while still allowing for the relevant completion of tasks. According to Ringover, 60-120 seconds is the average amount of time needed to schedule follow-up tasks and make after-call notes. On average, post-call workflow typically takes two minutes to complete and wrap up. However, there is no absolute standard in place to cement the 'ideal' amount of time. Reducing the service quality by increasing the speed of your ACW isn't the best way to go about it especially when the satisfaction of customers is concerned. The important thing is that agents must be quick to wrap up ACW to get back to the queue.
Benefits of tracking and monitoring your After-Call Work time
Source: ozonetel
When it comes to gauging the success and potency of a contact centre or customer service department, AFC is one of the many significant metrics to keep track of especially because it directly impacts your Average Handling Time. Since Average Handle Time is a critical KPI, the one parameter that can be reduced to improve it is after-call work.
AHT= (Time spent talking + Time spent on hold + Wrap up time) / Total number of calls handled
Specifically, After-Call Work benefits include:
Improvement in the performance of your customer support representatives
By consistently keeping track of average call time and other 'in-call' items; reps become more mindful of their before, during and after cal time. It also helps them to be more aware of where they spend most of their time and how they can work towards improving and adjusting their productivity and performance.
Drastically lowers customer wait time
When agents take too long with after-call work, it results in longer hold time for your customers. And also means that lesser outgoing calls are being made.
Helps in highlighting process or operational issues
Tracking after-call work will highlight various issues faced by the agents which will allow the call centre to fix and make process improvements wherever required.
Few other tangible ways it can benefit your business is that
It helps in keeping an important record of conversations.
It assists in the induction of new hires.
It helps in saving time on existing client calls.
It helps in improving the overall time management of the agent.
It avoids quizzing customers regarding repetitive information and details.
Sign up with us and get all your vanilla jobs done with us in the best way possible, at a low cost, and get your processes done at the best quality!