Nobody can deny the weight of the responsibility of working as a customer support representative. As the face of the company and the first point of customer contact, agents have the daunting task of satisfying customers while still holding up the image and reputation of the company they are representing. The U.S Bureau of Labor Statistics has stated that call centre representative jobs are in high demand and are bound to grow 39% between the years 2014 and 2024 also making it a strategically great career move. Listed here are a few frequently asked questions to help you gain clarity on what it is like to work in VOIZ.
Are all the jobs that are posted have only remote positions? 
Most jobs that are posted are for remote working positions but there are some jobs that would require you to work on-premise or at the physical location of the job. You can filter your preferences out and start your search based on what suits you best.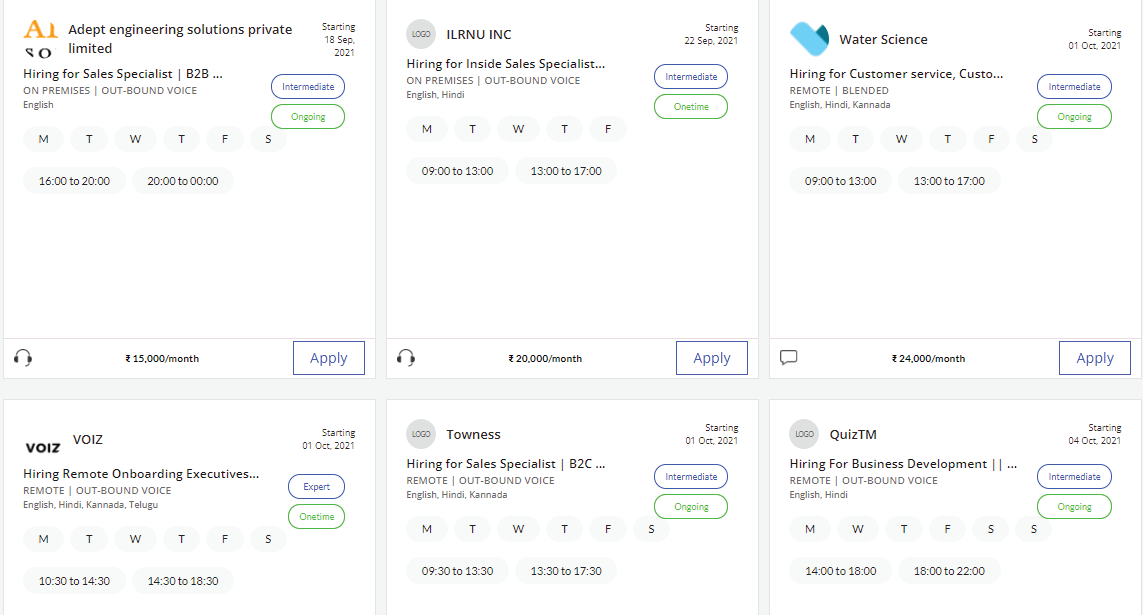 As you can see, most job postings are of the 'remote' type and some are of the 'on-prem' type. You can apply for whatever you prefer, provided you fulfil the qualification terms for the jobs you are interested in.
Can I apply for a job even if I don't have the experience for it? 
There is no harm in trying but if you are just starting out as a customer support agent, then apply for jobs that have reduced qualification limitations as it is a good way to keep yourself motivated because then the odds will most likely be in your favour. Let us also remind you that the requirements listed in job postings are wishlists of a perfect candidate and employers or recruiters are realistic about the likelihood of the perfect candidate existing.

Of course, that does not mean that you apply for every job you come across. If a particular position is widely beyond your level of experience then you are better off not applying for it and directing your efforts at finding something that is attainable and more suitable to your current experience and competencies. Customize your resume in favour of the job you are applying for and make sure to not pass on a role even if you meet only 75% of the requirements.  
Will I be trained before starting a job role? 
Based on your skills and experience, your hiring company will decide whether you need training or not but most technical and specialized roles do come with training modules after which only you can begin working. You can also engage in assessments and courses that can help with performing your job better!
After an interview, should I continuously keep following up?
Keep a conscious mind to check your notifications in your VOIZ account. You will not be able to contact your hiring manager so we recommend you to wait 1 to 7 days for a response from the company you applied to. 
When is the best time to look for a job on VOIZ?
There is no such time as jobs as they are posted almost every hour on a daily basis. You can keep checking our job portal every day to see what suits you best. 
Will there always be jobs on the job portal or is there a specific time when jobs will be posted?
You will always find jobs on VOIZ's job portal. There will always be requirements for professionals. You can keep a track of it on a regular basis while upskilling with VOIZ's courses and self-assessments. 

Hope this answers a few of your questions! Let us know if you have any questions regarding what the freelancer life is like at VOIZ or what you need to do to get started with us!