Aspiring agents, the good news is that getting on board with VOIZ is extremely easy and requires hardly any time. All you have to do is hit the link (https://app.voizworks.com/signup) and get registered and start applying for jobs! 
Step 1: Identify yourself as a 'Professional' and sign up with Facebook or your email ID to get registered on VOIZ. Once you are registered, verify your email and phone number. This is for your security.
Step 2: After you finish signing up, get started with building your bio, fill in your work experience, preferences, bank details, KYC, and other documents.
Let's start with your Bio
Summary: Shine with everything you have got under a 300-word limit. This summary is meant for the recruiter to know absolutely everything about you so keep it crisp, fresh and upbeat.
Gender: Choose the gender you associate yourself with.
Languages: Select any or all the languages you know well.
Highest Qualification: Add in your qualification details from the list given.
Year of completion: Mark the year you completed your selected form of qualification.
Country: Add the country you're from.
Infrastructure: This allows the company to understand the kind of devices you're equipped with. Select according to the questions asked.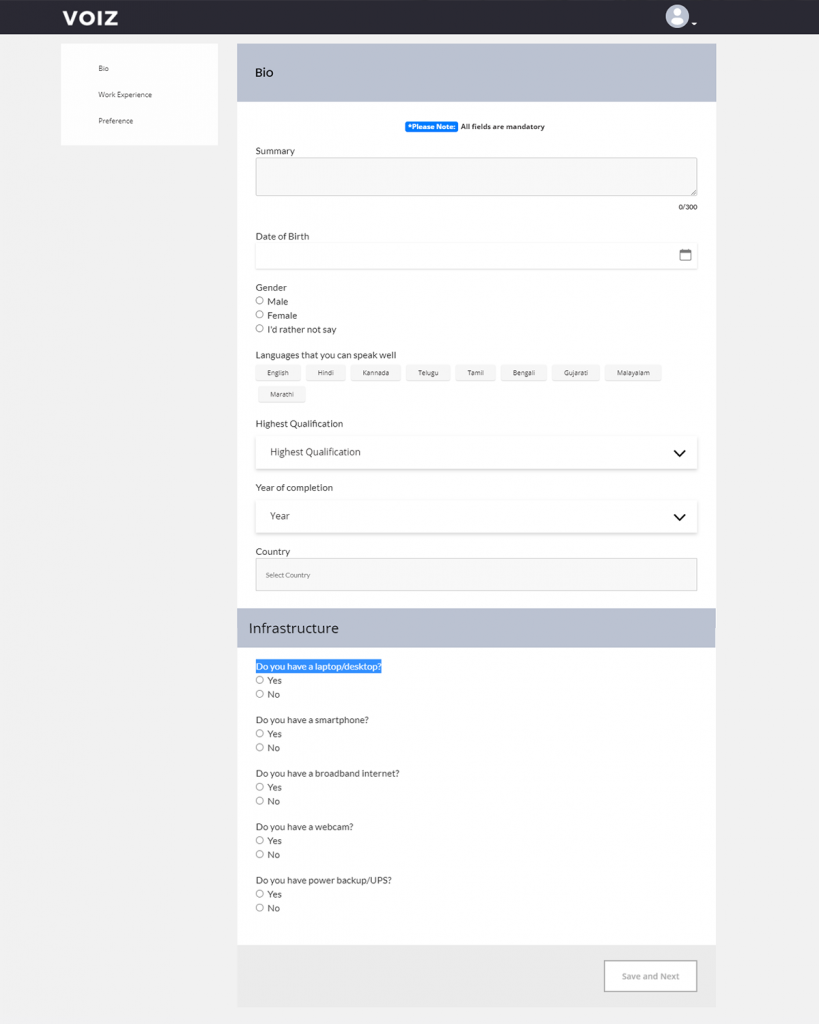 Next is work experience, add in yours- doesn't matter if you're a professional or a fresher! Feel free to add multiple items if you have worked on various processes in a job. It is also alright even if you don't have any experience in customer support.
With preferences, which is the next segment, you get to choose your 
Preferred Work Days: This option means that you will get to choose when you want to work out of the seven working days in a week. You can choose a minimum of five days and a maximum of seven days. It's flexible and anything you choose works!
Preferred Time-slots: This option means that you will get to choose the time at which you want to work out of the 4-hour work slots. You can choose a minimum of 2 slots and a maximum of six slots!
Preferred Project Types: This option means that you can choose the type of projects you want to work in based on your personal interest, area of experience, etc. You can choose a minimum of one project type to a maximum of all five project types which includes In-Bound Voice, Out-Bound Voice, Email Support, Chat Support, and Blended. The sole purpose of doing this is to help you find jobs and projects that are compatible with your interests and skill levels.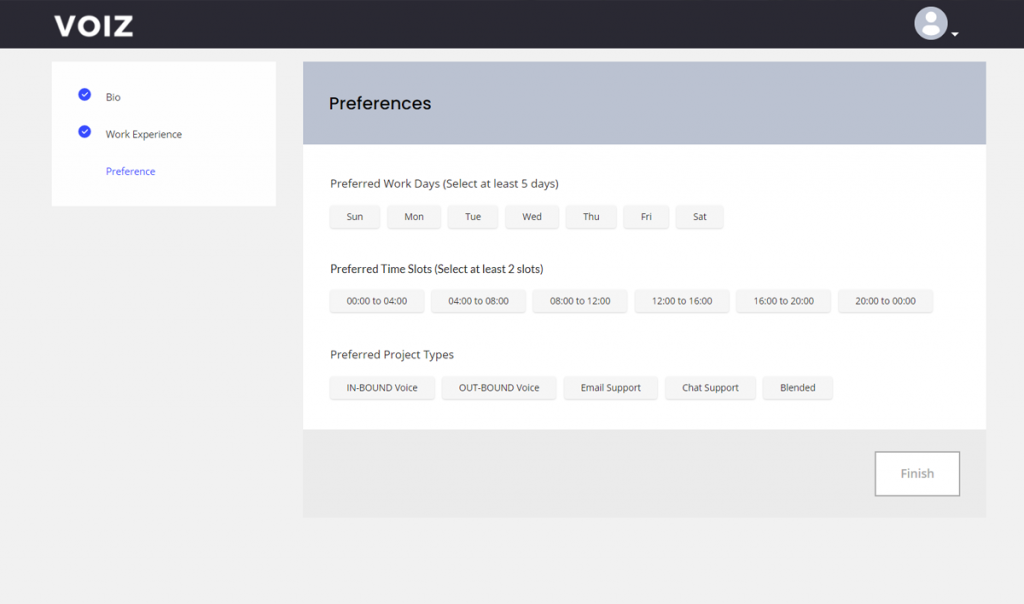 Bank Details: By adding in your bank details, you're making it easier for us to transfer your salary after each month of being an agent with VOIZ.
Our next segment, KYC, is mandatory as it requires a digital copy of your Aadhaar card and your PAN card.
In the documents section, you will have to add the documents required.
In the final segment, you will have to upload your image. After which your profile will be ready for you to apply for gigs/jobs and for companies to recruit you!
This is what makes a stellar and reliable job profile! Now that you know, head over to VOIZ to get started on the same!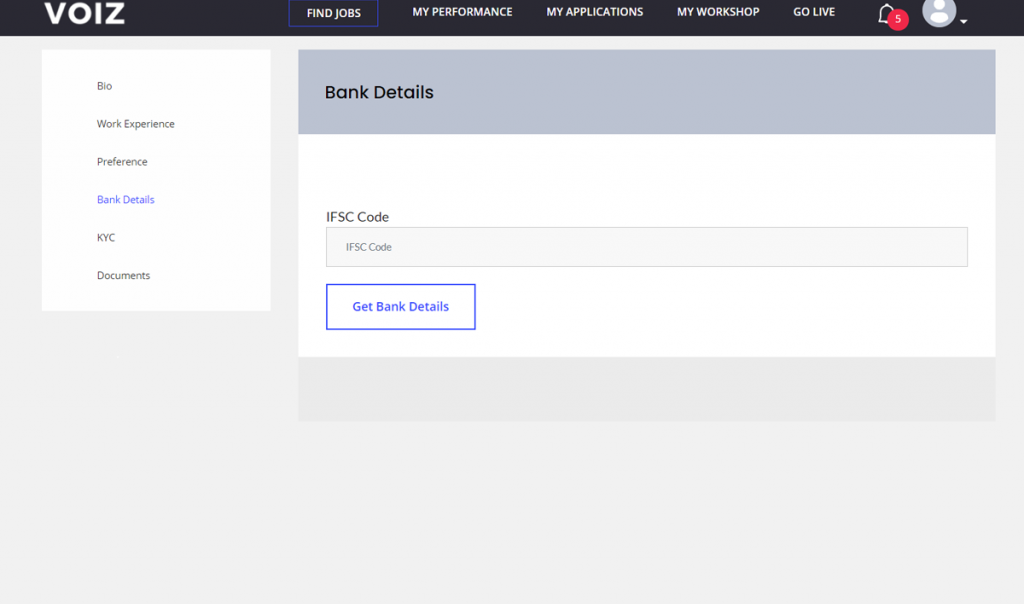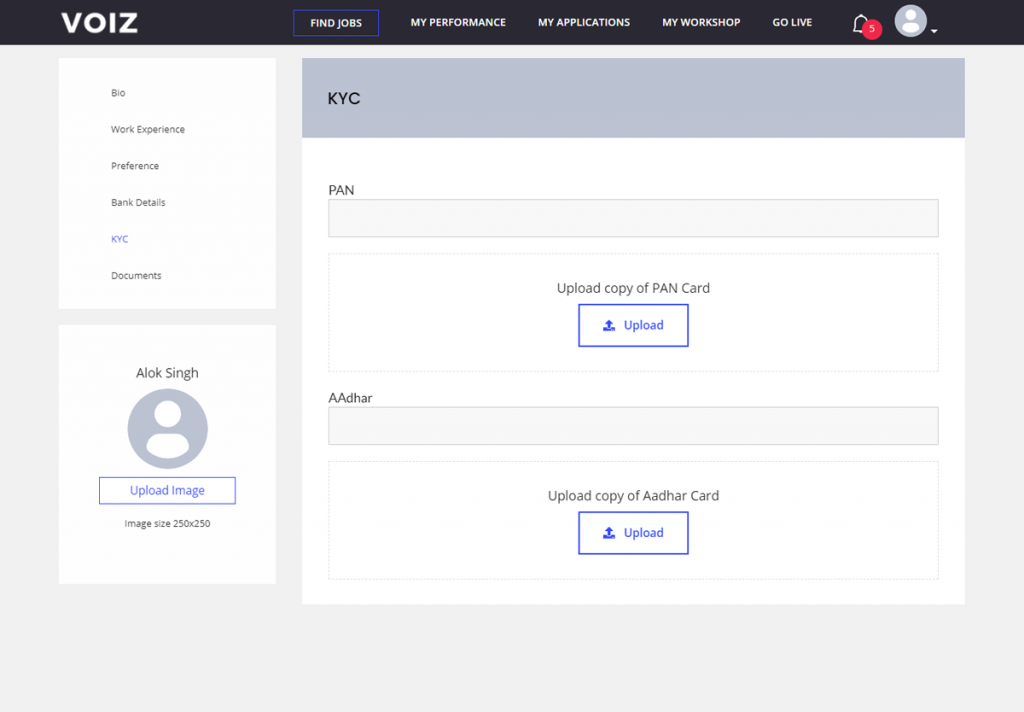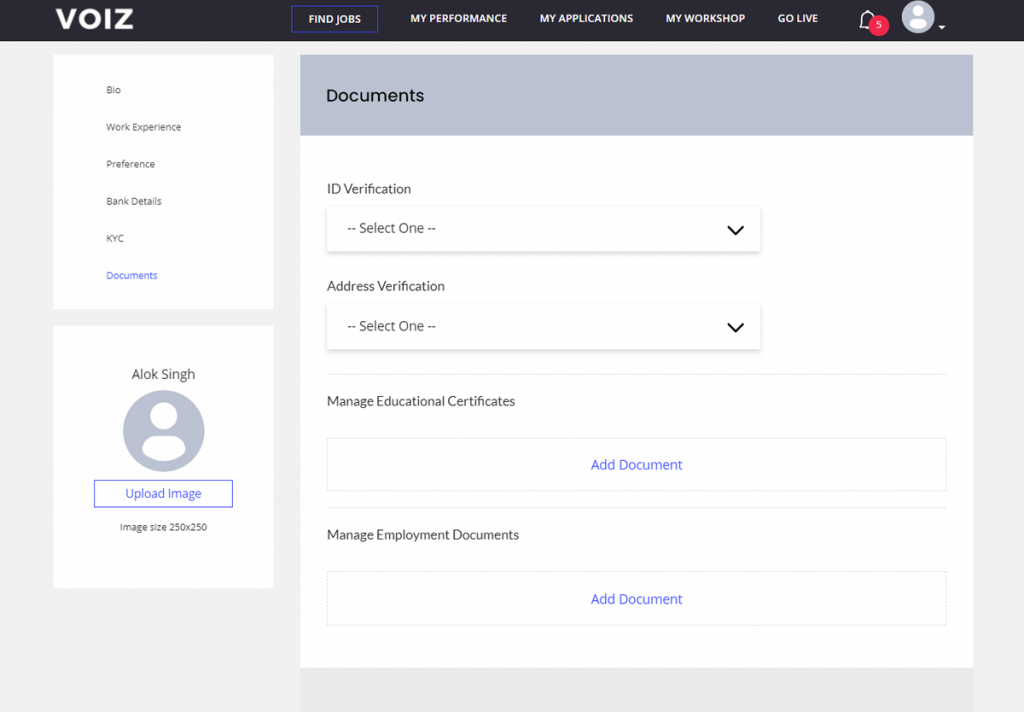 Step 3: Start applying for jobs by going to the "Find Jobs" section on your VOIZ Agent dashboard. With a plethora of options to choose from, click on the job that interests you by clicking on 'Apply' which is right next to the salary you will be compensated with every month.
After which you can choose the days and the time slots that you would like to work for. You also get to choose the language you want to converse in. You can also go to the 'My Jobs' tab on your dashboard to check the status of your job applications and job requests. Over here, you also get to check the projects you have been hired for!