The terms "call centre" and "help desk" get thrown around a lot when companies want to send their clients to the right place to find support and assistance. But for a customer support agent who is new to their job or for someone who is contemplating working in this sphere of the service industry, then this is something you need to be clear about. These terms can get used quite a lot to the point where they may seem interchangeable.
On a surface level, the different nuances of various types of customer support may not seem that important but if you have been asking yourself about the similarities of these terms and their differences, then a valid case can be made on the latter.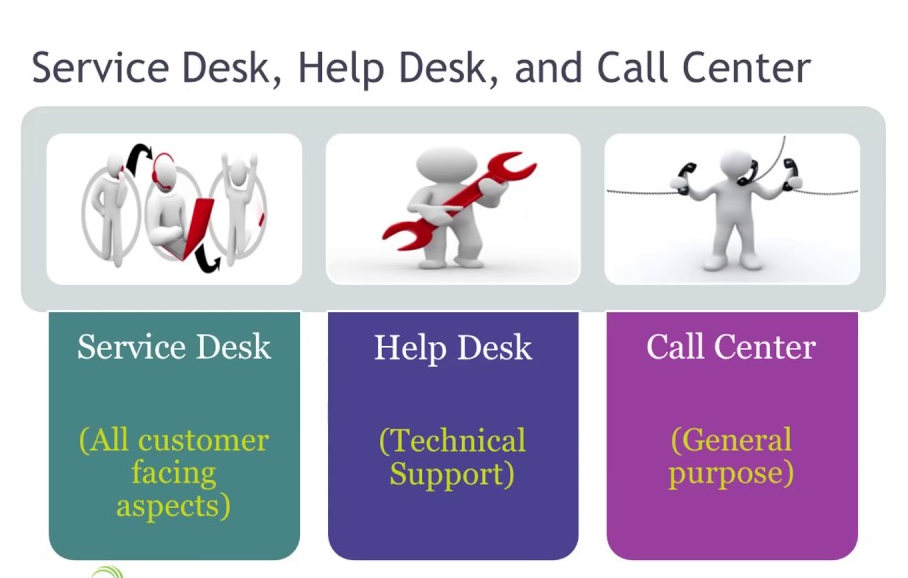 What is a Call Centre?
A call centre is a department of customer service that handles orders, complaints, inquires etc over the telephone. This branch strictly deals with customer service scenarios that are played over the phone only. An inbound call centre allows customer support agents to receive incoming calls from customers and resolve their questions or issues. An outbound call centre, on the other hand, allows agents to make outgoing calls to existing customers or cold calls to potential customers.
If you are wondering where these call centres exist then wonder no more. Companies either run call centres internally in their own office spaces or outsource them to third party companies to save costs on training, hiring, infrastructure, etc.
Key functions of a Call Centre include:
There are many dimensions of a call centre but some of the notable ones include:
Telesales and/or Telemarketing
In outbound call centres, telesales agents call customers to generate leads or prospects. Telemarketing agents engage with potential clients and customers to create reliable leads, generate brand awareness or even schedule appointments etc. 
Technical or basic assistance 
Provided by inbound call centre agents, they offer assistance to customers with their day-to-day enquiries or issues along with technical complaints. They provide round-the-clock assistance in call centres for issues ranging from refunds and returns to troubleshooting steps to fix a gadget. 
Order placing and processing 
Call centre agents help customers complete their purchase over the phone and/or even offers suggestions that can help increase average order value. 
Personalised customer service experience
Call centre agents have the responsibility of creating personalised customer service experiences since customer support is one of the primary functions of a call centre. 
What is a Help Desk
A help desk is an extension of the IT service desk and is focused on internal IT and employee support more so than customer-related incident management. While a help desk can mean a lot of things to different people, in the most general sense, it refers to the department of an organisation that offers its customers, employees etc information and support related to a company's services and products. For example, a help desk can exist to educate you or a customer to install new software or reset a password, etc. 
The fundamental difference between the two is that a call centre focuses on general customer support and service while a help desk is a problem-solving IT department. Call centre agents may even use the help desk to find answers or may refer customers to the help desk as required.
Key attributes of a Help Desk include:
Acts as a SPOC or Single Point Of Contact
A helpdesk typically acts as a SPOC for both external customers and internal employees. This form of support can be accessed popularly through self-serve processes or even through email, chat, messaging, phone, social media etc. Irrespective of the type of product or service related assistance they require, they can easily contact the help desk. 
Ticket Escalations 
Help desks are used to record escalations that help desk agents assign to higher managers or supervisors. 
Ticket Management 
A help desk team exists to convert every customer request or issue into a distinct and unique ticket. The help desk ticketing system allows the company and agent to track the progress of these tickets in real-time. The help desk also ensures proper ticket tracking, recording etc. 
Internal Help Desk 
This caters to the needs and requirements of internal employees to ensure that agents or employees from different departments can operate efficiently in the event of any company-wide issues. This helps employees lodge or register their problems allowing the IT help desk to resolve them. 
Notable differences between Call Centre and Helpdesk
Though the differences between a call centre and a help desk are not much; they aren't so minuscule that they can be ignored altogether. 
Nature of Issues 
An important basis of the distinction between the two is that call centres were designed with the view to handle day-to-day customer concerns that require a professional agent's assistance. On the other hand, in addition to simple requests and queries, help desks also cater to technical support issues. 
Channels 
Call centres are mainly limited to the phone whereas help desks capture requests and complaints from various channels and mediums such as live chat, phone, social media, email, knowledge base etc. 
Agent Handling Skills 
Call centre agents use scripts and require decent communication skills along with product knowledge to resolve issues. IT help desk agents must have relevant technical skills and knowledge to resolve technical issues raised and faced by customers or even employees.