straightforward and requires very little out of the candidates. All you primarily need for the job is stable internet connection and a working smartphone or a laptop.
Let's get into it:
After creating a stellar profile which includes making a dynamic summary amongst adding other general details, you're good to start looking for jobs! To know more about getting started with VOIZ and setting up your profile, hit this link. (re: For agents: A simple three-step guide to get onboard with VOIZ)
'+ Find Jobs' is your portal to get your gig-work career started.
By heading to '+ Find Jobs', you will be able to check out a plethora of gig opportunities that are suitable for you and have been automatically selected in accordance with your timing preferences. After being greeted by a variety of gig opportunities for you to choose from, now is the time to assess these jobs and find what works for you.
Smartly analyze your options.
VOIZ has made the job scouting process easy for you by connecting you to various companies in the marketplace. It is free of cost for agents and as one, all you need to do is check if the job works for you. On the project listing, you will notice
the job role;
the process type i.e. inbound or outbound etc across various channels like voice, email, chat, and social media.
a list of languages required for the job of which you can select one or more,
days required for you to work along with the slot timings and monthly salary. You'll get to choose 6 or 7 days out of the 7 day slot which starts from Monday and goes on till Sunday. As for timings, you will get to choose a minimum of one slot and a maximum of two slots. A work slot comes in pockets of four hours and you get to choose whichever time slot works best for you! Mind you, there's work available at every time slot!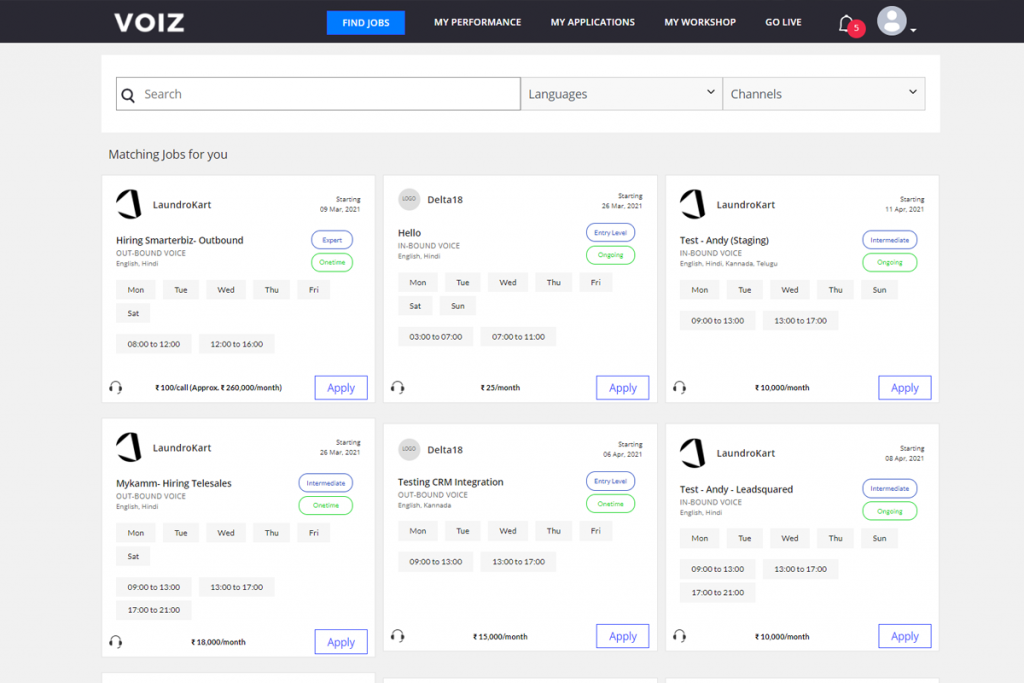 Hit 'Apply'.
With a clear idea of the kind of jobs you will be required to do, you can shortlist the projects that appeal to you. This way you can get started with the rest of the hiring process. Hit 'apply' to all the gig jobs that work in your favour. As a remote CX agent, you have the advantage of working from anywhere and at any time! You will be able to balance the ideal work-life balance, get to work on diverse projects, and get free courses and training.
Getting shortlisted and scheduling interviews.
Always keep an eye out for the 'My Jobs' tab as it will keep you updated regarding the status of your 'applied jobs' which are the jobs you have applied for, 'requests' which job applications sent by companies, 'selected' keeps a tab of the all the jobs that you have been selected for, and 'hired' lists all the projects that you have gone live for. This portion of that dashboard will keep you updated about any and all movements with regard to your job application.
If and when you get shortlisted by any company, you will be notified regarding the next steps of the interview process as the hiring manager of the project will get in touch with you and as you move to the next stage, you must be well prepared for the interview. You can expect questions related to your skills and your contribution to the project and some interviews may also entail tests which require a minimum pass percentage. These interviews are usually quick and you can schedule them according to your convenience. The interview can take place via voice or video call and will be entirely conducted in English. The results of the interview will reach you within 1-7 days and if it happens to take longer, feel free to contact VOIZ's support team.
Going Live!
When you get the gig and you go live with the project, you are officially a part of the company you work for. Payments are fixed, prompt and are calculated based on your performance in the live sessions. You will receive them every month directly to your bank account. These projects are for fixed periods of time and some of them may include training and courses that need to be completed.