Customers don't expect you to be perfect. They do expect you to fix things when they go wrong.

—Donald Porter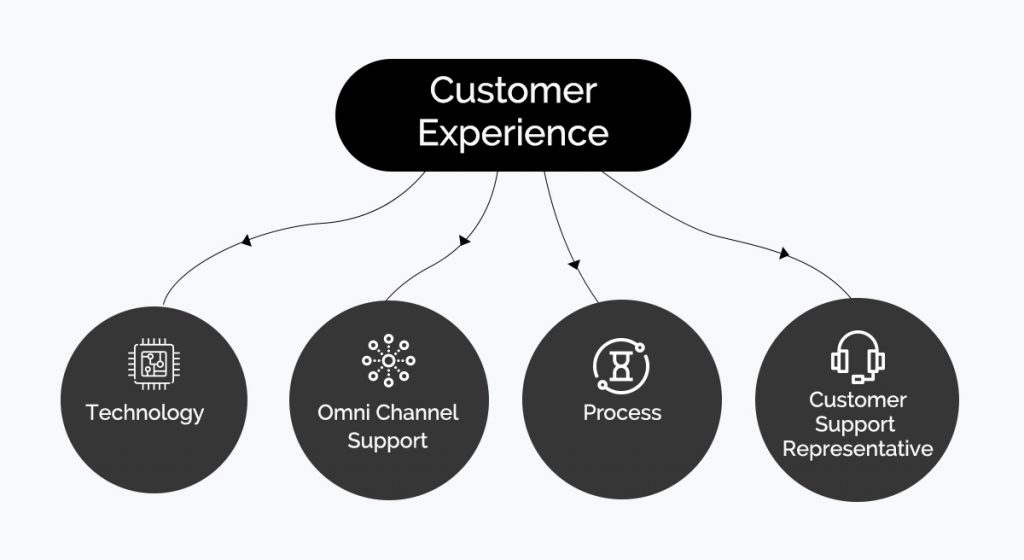 While the Pandemic has changed commercialization and marketing to a certain extent, customers are still looking for empathetic and helpful experiences from the services they opt for.
As a result of the organic change that the world has gone through in the past several months, while the brick-and-mortar locations have limited down, consumer behaviour's dependency towards digital has drastically ascended.
American Express found that U.S. consumers are willing to spend 17 percent more if it means they can work with a company that prioritizes the customer experience, and more than half of respondents said they would abandon a brand due to a poor experience, and 33 percent have considered switching companies altogether for the same reason.
So what does it take to give your customers the best experience?
With this article, let's explore four aspects within a business that you need to constantly keep a tab on to ensure that you are treating your customers right and assisting them with the best possible experience.
Tip #1: Modern Technology can enhance your customer experience
Customer self-service tools like dynamic search, conversational chatbots, virtual assistants, cloud computing, big data, live video connectivity, and automated responses are redefining the way businesses connect with their customers.
To exceed rising customer and employee expectations, your business needs insights. While firms have no shortage of data, their personalization strategies often fall short in creating a sound technological environment—for this purpose, your business needs Customer Relationship Management software to convert these data into actionable insights. By having a CRM tool in action, you can view customer purchase history and to predict future needs even before the customer knows they need it.
Intelligently storing and managing customer and prospect information can win you more customers by your sales team's ability to close deals and assist your service team with intelligent help desk solutions.
Likewise, a simple, AI-powered tool like an FAQ widget can help you track customer concerns during this uncertain time. By capturing more data about pressing customer questions, you'll be able to rapidly produce the CX solutions customers need to engage with your brand.
Another important aspect of technology is using a good Management Information System (MIS) tool which fundamentally provides a backbone for communicating effectively both internally and externally with customers. And also helps you to send out surveys at different points of the customer journey.
Staying on top of these developments and trends will involve mastering these new innovations and using them to communicate, engage and promote innovation.
Tip #2: Create a Real-time Omni- Channel Support for your customers
It's important for the business to ensure that it integrates different methods of communication available to its consumers. This kind of incorporation in the customer support, popularly known as omnichannel customer support is an important part of an effective customer experience strategy.
Companies with a focus on omni channel customer service retain an average of 89% of their customers, as compared to 33% for companies without such customer service.
Omnichannel businesses provide customers with a seamless integrated support experience, whether it's from different platforms like email, phone, live chat, social media, in-app chat, chatbots, and so on.
Right now, considering that people are spending a lot of time on social media platforms, it is only natural that customers expect businesses to extend their support to these channels as well. So, if you haven't created an account across all major social media platforms, for your business now is a good time to do so!
With Omni-Channel Customer Support, you can keep all customer data in the form of contacts inside a single platform so your service reps can address the issues with proper context and delight the customers.
Tip #3: Have a constant drive towards making your business process more efficient
Businesses must continuously work towards improving their processes and optimizing their workflows to avoid being taken over behind by their competition. There are several tools and platforms across the internet that offer analytics and insightful reports that allow you to recognize patterns in your business communication.
Among the most remarkable variables in keeping customers happy in customer service interactions is response time.
Choose a support desk tool that offers a consolidated view of all the requests coming from each channel and prioritize the ones that need immediate attention.
Ensure a system is in place that can send these tickets to an accountable member of the team, and that there's a centralized location where all appropriate personnel can access ticket requests.
Auditing your existing ticket resolution system for inefficiencies could be a good practise for process improvement and also for the reexamination of the speed of these interactions.
Identifying potential escalations at an early stage is important in order to minimize the potential for negative reviews.
Finally, turning queries into sales is one of the best practices of customer support, often leading to increased revenue. Pre-sales queries, when you have a potential customer browsing your site and they have a question about a particular product, are a great example of this. If you answer their questions straight away when your visitors are in the buying mindset, you can convert them into a customer.
Tip #4: Train your Customer Service Representatives:
73% of customers fall in love with a brand and remain loyal because of customer service representatives who choose to go out of the way to help them out during their crisis .
Most of your customers would not expect you to be perfect in terms of service but what they might expect is empathetic behavior and helpful resolution in their moment of crisis.
Especially in these uncertain times, your brand can create outstanding customer and employee experiences by finding even more ways to be empathetic and relentlessly helpful.
Hence, it's become an extremely important aspect that you allocate some time, budget and effort into training programs so that your advisors working remotely are prepared to meet the expectations of their customers. Ensure that the executives have a comprehensive understanding of your business, product and contact center operations, for better understanding of their role in achieving business goals.
As customers, you have endless options. If a company isn't meeting your needs, it's pretty easy to find an alternative. Sometimes all it takes is a Google search.
For businesses, that means there's more opportunity than ever to gain and lose customers rapidly. It's not about price or product either. Customers are shopping for better experiences—for companies that understand their needs, make their lives easier, and treat them like actual humans.
Hopefully, this article helped you realize that customer experience needs to be on your radar, too, because, when companies prioritize the experiences they're delivering, they're already leagues ahead of their competitors.