The customer experience industry largely depends on employees to have a number of interpersonal skills or soft skills. Whether it is interacting with customers in person or over the phone or via email or live chat etc it is important that as an agent, you are able to relate to your customers on an authentic and personal level. Regardless of the CX process, you are a part of, the customer must feel like they are interacting with someone who genuinely has an interest and cares about them enough to solve their problems and provide them with the right solutions.
How have soft skills become a much-needed ingredient?
Soft skills are often underrated when it comes to call centres, contact centres, customer service or telesales teams. This can be mainly due to the fact that soft skills, though easily spoken about, are practically rather difficult to master. Soft skills are defined as the abilities used to delight customers that do not necessarily relate to the product or service or the organization. These skills are non-technical and play a crucial role in customer experience. Some of these skills are social awareness, interpersonal communication, personality traits etc.
These skills are also referred to as interpersonal skills and require a weighty amount of effort and fine-tuning in the neurological and psychological departments. These are known to be harder to train as opposed to technical skills because they cannot be studied from a training manual or a book. For instance, if you don't know the refund procedure, you can always ask your senior or read about it on the company's knowledge base resources and find the solution you are looking for or trying to provide your customers with.
But if your customer is frustrated and upset about something, then it becomes solely your responsibility to de-escalate the issue and use the right combination of creativity, problem-solving skills, communication etc to avoid potential churn. In such cases, an agent cannot turn to a manual for help and it does not really matter how much you know about the service or product of the company. What is of essential importance is your ability to react appropriately and utilize the soft skills to resolve whatever it is the customer wants in a satisfactory manner especially when the solution isn't exactly certain or clear. 
For most of us, we think of hard skills when we think of learning or developing a new skill for the sake of our job roles. But that might not be where you should be expending your effort. Unlike soft skills which are difficult to teach or quantify, hard skills are easily demonstrated and measurable. Just working on building your hard skills and neglecting soft skills can lead to overall neglect in personal and professional goals and reviews.
Another example of a tech support job description would be:
After the expertise and qualification, it mostly comes down to your skillset; and that includes soft skills. Note that the hiring manager for the above-listed job posting has mentioned hard skills as a bonus skill to have but wouldn't want to hire someone with poor communication skills. As you progress through your CX career, soft skills become more and more important.
Here's a look at the qualifications required for the position of Customer Happiness Manager at Fracture. Look at the emphasis placed on emotional intelligence, time management, and self-motivation. There's only one line dedicated to hard skills which are 'understanding HTML, browser, and cache.
A major portion of your time as a customer support agent or a telesales or telemarketing agent revolves around interacting with the public. If you can't list your company's exchange policy, a call script can help. But if you can't communicate the same in a simplistic manner to your customer or caller within a set timeline, then it reduces your chances of becoming successful. While hard skills are great to hone and have, you will soon come to realise that customer experience runs on soft skills. 
In this blog, we discuss the most important soft skills required to ace in the domain of customer experience aka CX, and how you can develop your skillset.
1. Managing Ambiguity
In certain cases, one of the biggest points of friction between a customer and a support agent can be product knowledge. As a CX agent, you might be well versed in the industrial lingo and technical slang associated with your brand or product. However, your customer may not be familiar with or as well versed as you are and may struggle to provide the level of detail that you are looking for when they are explaining a problem.
Managing ambiguity is all about aligning your knowledge about the company's product or service with what the customer is saying so as to seamlessly troubleshoot and arrive at the right resolution methods. This would mean asking the right questions, breaking down technical jargon, using examples to illustrate an idea etc. The customer should ideally end the interaction feeling satisfied with the effort and overall conclusion of the experience.
2. Clear Communication
Clear communication is the keystone to building trust and long-lasting relationships with customers. It is one of the most important elements of customer experience. You need to be able to know what your customer wants and also be able to articulate how you can help your customer and what you can do for them in various virtual environments.
The ability to communicate properly with your customers avoids misunderstandings and miscommunication which have the potential to result in frustration and disappointment. While speaking over the phone, ensure to enunciate, speak loudly and clearly and employ an upbeat and positive tone to help you communicate effectively with your customers. If you're interacting with your customers via email, chat or live chat, then ensure to type appropriately, incorporating the right grammar and spellings that convey a positive and upbeat tone of the message.
3. Creative problem solving
If the customer has a complicated problem or is ambiguous, you will still need to find a satisfactory solution. One of the ways you can do that efficiently is by challenging yourself to think differently in order to come up with effective solutions. In cases wherein you are unable to find a solution that works for a particular customer, then come up with creative ways to help them locate additional help. Customers will appreciate your interest in their problems and your willingness to assist them in their queries and concerns.
4. Attentiveness 
Also known as active listening is an essential soft skill in the world of customer experience. There is nothing more frustrating for a customer than to listen to "Wait, what happened again?" after reciting a long story. Customers don't just want to be heard, they want to be understood. That happens when the CX agent listens to everything the customer has to say and be able to intuitively understand what went wrong or what the customer is asking for. This involves focussing on your customer's point of view rather than what they are going to say next. 
By clearly hearing your customer out, you will be able to centre your attention on what your customer is trying to tell you which can quicken the resolution process from your end. Doing so demonstrates that you have not only listened to the customer but also understood their goals and where they are coming from.
5. Time management
Time is everything in the CX industry. While it's great for you to be patient and take your time with customers to understand them better; there is a limit to the amount of time you are allowed to dedicate to each customer. Therefore, time is a common denominator that is present in most customer interactions. This skill leads to another one which is the ability to work well under pressure. An efficient agent will be able to quickly identify when they can't help a customer so they can escalate it or find other solutions to help them.
6. Depersonalization
While it is important to be friendly and courteous with your customers; you must always bear in mind that you are not there to share your stories but to solely focus on what the customer is saying and respond purely on the basis of that. By saying, "I understand" or "I can imagine how you must be feeling" you can make the customer feel prioritized and appreciated. While you work on getting their problems solved, it is important to make customers feel comfortable without taking the focus off of them.
Here are some hard skills and soft skills that will help you visualise the difference between them.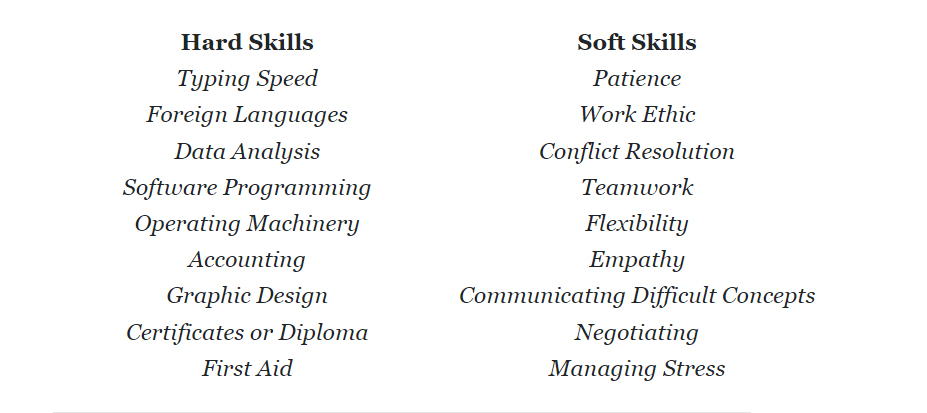 For years, soft skills have been branded poorly. Soft skills are more than about being nice. They are about interacting with people in a positive and meaningful way. Master the soft skills and you will see that the technical prowess will not matter as much as you think it does.