Live chat is popular for its quick responses and resolutions to customers' queries and inquiries. Let's also not forget to mention that with live chat comes reduced wait time and more personalized support services that customers prefer.
Why is 'Live Chat' considered to be a customer favourite?
Source: Customer Think
It's not a surprise anymore that live chat has been bestowed the badge of 'customer favourite' in recent years. In addition to engaging in conversation with the customer; it allows you to understand what captures their attention, what their interests are and intentions are and what steps they plan on taking. Live chat, in addition to being a portal for addressing complaints and grievances, live chat also tends to improve customer engagement.
According to superoffice.com, in the next 12-18 months live chat is expected to grow as much as 87%. The reason for this is that more than half of the total customer population are more partial towards chatting with someone online and in real-time; rather than having to call the brand for support. Email and phone support are irreplaceable as live chat is not the end-all and be-all of customer support. Different customers prefer different channels of support communication for varied reasons but live chat does largely appeal to customers as the initial part of the interaction or the concluding part; sometimes live chat can be the main source of support interaction between the customer and the agent.
Here we outline 3 common mistakes agents tend to make while chatting in real-time and how these slips can be acknowledged and avoided.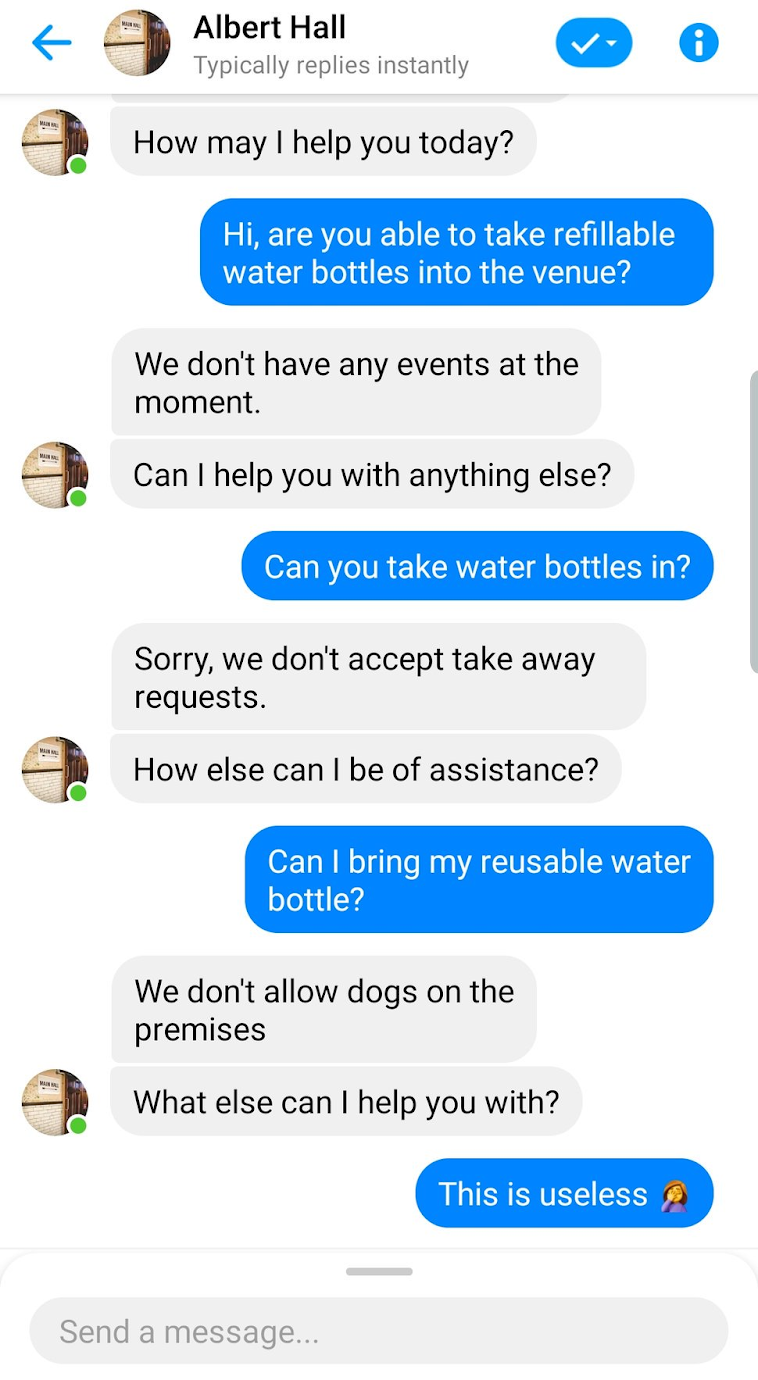 Mistake #1: Sounding Robotic
Source: Userlike
There is a reason why customers chose live chat to communicate with the brand and that is to interact with a human agent in real-time. Unlike emails, chats originated from real-time digital conversations making their appeal more of the informal kind. Therefore when support agents tend to follow formal communication rules that include formally written messages, strict use of professional language and carrying out impersonal word constructions can end up with customers feeling like they are being served by a robot rather than a human being. The irony here is that even actual robots or chatbots are trained to mimic human agents, so the goal here is to strike up a conversation that sounds natural and unscripted. Excessive use of formal language and business speaking rules can make the entire chat conversation complicated, slow and bulky. This defeats the purpose of using a live chat in all its entirety as it eliminates personalization, compromises readability and increases customer annoyance eventually leading up to their dissatisfaction. There are so many instances where customers complain that they can't identify the difference between chatbots and human agents while interacting via live chat. That right there is a huge problem as it means that support agents are sounding robotic and scripted, leaving customers feeling frustrated and disconnected with the entire support process.
The Fix:
Informality comes more naturally to humans. Bearing that in mind agents need to nurture that while also exercising on not sounding too automated, formal or robotic. There is a fine line between friendliness and professionalism and live chat is where that balance of clarity and brevity can be achieved. Always remember that personal replies result in an increased level of support. Ovum and Oponuim have pointed out that 52% of customers appreciate a business if the support service is more personalized.
Make your customer communication more interactive and conversational by adding listening indicators such as 'I understand', 'I agree', 'I see' etc that signal attention and confirmation. Here are a few examples of robotic tonality that can be replaced with a personal informal touch.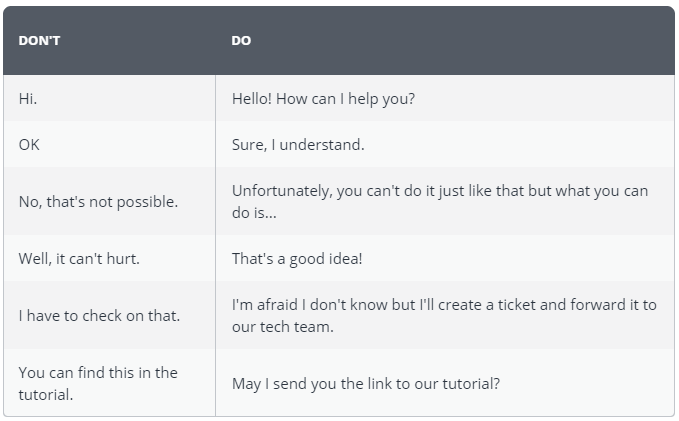 Source: Userlike
Instead of 'Hi. How can I help you?' use 'Hi. Glad to connect with you. Is there anything that I can help you with?'
Instead of saying 'Kindly repeat the process and see if it works' use 'I see that repeating the entire process is not working for you. Would you be able to share your screen so we can identify the problem or help you out faster?'
Replace 'Sorry, we do not understand your query' with 'Correct me if I'm wrong but what I gather from your earlier messages is that you are looking for help with the refund process."
Agents need to break it down to customers as easily as possible, especially on live chat.
The economic and relevant use of emoticons is a good way of fighting off formality.
Even the usage of industry jargon can be kept at bay as it increases the threshold for understanding.
Make sure to construct your sentences in a way that they are structured and easily digestible for the customer.
Mistake #2: Creeping customers out by oversharing
Yes, as an agent you will have a certain amount of data and information on the customer. The nature of this information can be sensitive and can include data such as customer location, purchase history, shopping cart content, etc. While there is nothing wrong with having access to this information; overindulging such data and information to customers especially when it is uncalled for can be problematic. We want customers to feel comfortable and safe, not creeped out and insecure. As an agent, you must be transparent about the data you have access to when the occasion calls for it and be adamant about protecting it. Needlessly parading customer knowledge can sometimes do more harm than good as not everyone takes well to data spillage.
The Fix:
If your live chat software previews what a customer is typing in real-time, give them the time to compose their message and send it. Don't hurry with answers based on your gathered assumptions.
Use the gathered data in the best interest of the customer
Increase data transparency and ensure that their data will be kept safe.
Mistake #3: Missing opportunities to extend help and assistance
Live chat offers agents the opportunity to offer support to their customers instantaneously. Proactively responding to customer questions and inquiries is one of the best ways to provide support as opposed to just ending the conversation by strictly answering questions posed by the customer.
For instance, a client is looking for a product that is currently not available and if the agent is following the reactive approach then he will end the conversation by saying that the product is unavailable. But if there is an updated version of the mentioned product that will be available in the future that the agent missed mentioning, then this conversation is a lost opportunity for the business.
The Fix:
The main responsibility of support agents is to respond to customer queries but agents must also take it upon themselves to seek opportunities to support clients thereby contributing to the success of the business. Also make sure to equip yourself with information regarding product development, changes in stock etc that you can use as recommendations to help customers further.
Wrapping up:
The reason live chat is so popular and so incredibly powerful is that it allows you to create 'more' customer delight. There will always be multiple reasons to send an email or make a customer support phone call but with live chat, there exists a distinctive opportunity to create tailored experiences and deliver support and assistance that is personalized, simple and fast.